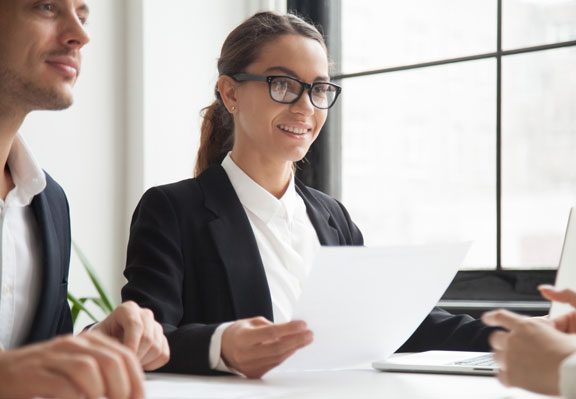 Seeking an Employee
Valley Staffing specializes in connecting Minnesota's leading employers with skilled administrative and light industrial workers. A locally owned company building over three decades of relationships, we offer customized recruiting and testing for your short-term, long-term, and temp-to-hire positions.
Many staffing firms highlight working closely with clients, but few can or will tailor their services to meet your needs. Valley Staffing guarantees that and more: We will work with you, on a position-specific basis, to recruit the best people and test them on the exact skills they'll need at your company. (We can also help you with testing and screening if you want to handle the hiring.)
Since 1985 we've helped staff employers from small, privately owned businesses to national corporations and everywhere in between. We know how to get to the heart of your staffing needs and will quickly find you the best-qualified person for that position, guaranteed.
Valley Staffing Services
Our unique approach to recruiting and testing is backed by thorough screening and a full guarantee of all candidates.
Experienced Recruiting: We find the most qualified candidates for your temporary and temp-to-hire positions in administration and light industrial. With over 30 years of experience and four Twin Cities locations, our standing and our reach are the fastest and most effective way to find the best-skilled local talent.
Thorough Screening: We thoroughly check each candidate's references and employment eligibility using the Department of Homeland Security's E-Verify system. Our comprehensive approach pays off in security and in time saved, allowing you to focus on your business instead of resumes and interviews.
Testing to Fit: Our system provides us with detailed and precise information to find the candidate that fits your position best. All administrative candidates are tested for aptitude and typing as well as other critical skills, such as software proficiency. We provide similar capabilities for industrial candidates including math, measuring, and dexterity testing.
We can also provide testing specific to your position, including niche and custom-designed assessments for reading comprehension, safety orientation, and more.
Candidate Guarantee: We employ a rigorous quality control program and guarantee the skill and professionalism of all our candidates. If the candidate we send does not meet your needs, call us within the first 4 hour and we will replace them without charge.
Criminal Background Checks: Using industry-standard technology, we can provide peace of mind and help your liability prevention with thorough screenings.
Value-Added Services
Valley Staffing is also equipped to provide 'value-added' services that make screening candidates more effective, convenient, and comfortable.
Pre-Employment Physicals: Valley Staffing has developed relationships with many clinics to help expedite the screening process.
Drug and Alcohol Testing: We offer pre-employment testing regimes to ensure that any additions to your team are healthy and safe from harmful substances. We are a drug and alcohol free environment.